Welcome to Huthwaite South Africa
Unlimited People Consulting has successfully been selling Huthwaite solutions for over 20 years, providing training in sales improvement and business development assisting clients across all sectors of the economy in South Africa and throughout Sub-Saharan Africa in areas of sales improvement and people development and is dedicated to helping companies achieve a measureable improvement in the way they sell, negotiate and communicate in their chosen markets. Your business will not reach its commercial potential unless it can invest in their people skills. The good news is that you are not born with these skills, but they can be learned. The chances are that you already have the people inside your company who can make you successful – and they learn to do it right. We provide any of our services virtually or face to face at the request of our clients.
We implement the SPIN Suite of programmes including SPIN Selling, SPIN Coaching and SPIN Opportunity Management which is specific to more complex sales, on behalf of Huthwaite International. We also implement our world renowned Complex Negotiation programmes.
Our dedicated team is here to help you as well as answer any questions you may have. Please do not hesitate to get in touch using the contact details below.
We can help you by providing practical training that will generate immediate business results. Our methodology is in developing innovative content that focuses on changing behaviour. Clients tell us that they want to work with trainers who are themselves sales practitioners; we can provide that, ensuring a close connection to the real challenges and practical applications you face. Highly qualified facilitators, and a meticulous quality control system all work together to deliver the greatest possible training impact – one that changes the behaviour and therefore the results for your people.
We believe in Huthwaite's methodology and that there is no other approach that can be compared
Unlimited People Consulting (Pty) Ltd: 2 Victoria Mews, 36 Barbara Avenue, Scottburgh, UMDONI, 4180, KZN
email: info@upc.co.za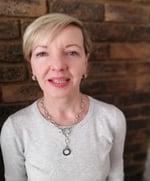 Sue Anderson
Sue has successfully run her own training and development company for the past 20 years. She has worked on a number of international projects that have allowed her to experience many levels of management and leadership. She is an internationally accredited Master Facilitator for Huthwaite International and is the representative for Huthwaite on the African Continent.
In Sue's role as business owner she develops, delivers and coaches various levels of learners to reach their potential and develop skills. She believes that every person has the inherent ability to change and the wisdom to know that they can be successful. Sue works with these individuals to help them to realise their potential and builds easy relationships based on trust and transparency.
Her field of expertise is in the area of sales. She is very involved in youth skills development and runs a number of life skills programmes. She is also involved in mentoring young ladies.
Sue is passionate about skills implementation and the behavioural changes that are necessary to ensure success for staff. She is very aware and drives the fact that learning needs the support of coaching in order to affect a culture and behavioural change within an organisation
Education
Master Certificate in Training and Development (University of Johannesburg)

Master Trainer (Huthwaite International)

Lumina Learning Practitioner (Lumina Learning PLC)